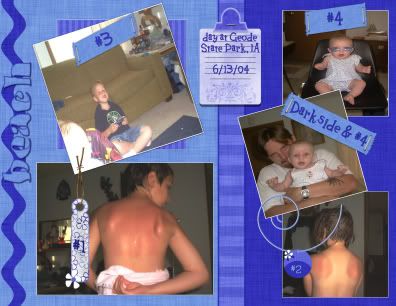 ---
This was after a day trip to Geode State Park outside Burlington, Iowa in June of 2004. We had lots of fun but didn't use enough sunscreen. The picture in the top right is before we left of my baby girl. And the other picture of her is with her daddy. He was the one who put sunscreen on her and bless his heart, he didn't want to get it in her eyes so that's why she got sunburnt the way she did LOL!
---
Well if no one can tell I've been putting things off like crazy
That's cause I've sat not knowing what to do for awhile. But we have it figured out now - YEA!
Here's our plan - If things are not any better job/money wise by February 2008 then we are moving to Iowa, probably to the Des Moines area. Definetly not in Des Moines though!! We will buy a pull along RV and a vehicle to pull it and then go. Darkside's plan is to buy an ambulance - he's really stuck on that idea LOL!
We also decided that we will go on another mini vacation to that area in July so we can better see things. I know we were supposed to do something similar last time we went but...... for one we was too busy visiting/partying/playing and for two we DID check out Des Moines - just not anywhere else.
So now that is out of my mind I can get on to other things - YEA!! That's why I did that LO earlier
And tomorrow should be REALLY productive too!
So if you've not heard from me for awhile then be prepared cause I'll be calling/writing!!
later....
Currently listening :
Slipknot
By Slipknot
Release date: 29 June, 1999