ok so I'm more addicted to d/l'ing the stuff to scrapbook than the actual scrapping part LOL!
But I did do a layout (LO) tonight here it is -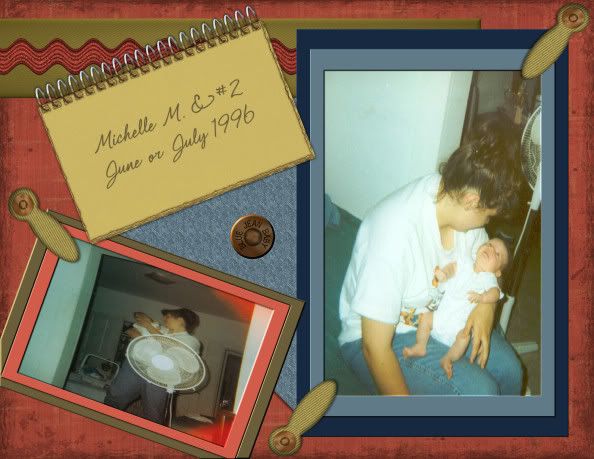 Credits: template #19 by
Renea Nicholson
and papers & elements by
Tracy Drane
(SummerJeans kit)
Today we went to J'ville and visited with the FIL & a friend. Also while there we went to Calvary & Diamond Grove Cemeteries and on the way there we stopped at Manchester (new) Cemetery. We got some new pictures so be on the lookout at our Find A Grave page if your interested (it's
here
). I'll be doing them tomorrow night probably.
While visiting with our friend he brought up another old friend - Michelle M. I hadn't thought about her for awhile so it really brought back the memories.
I wish that she would of stayed in touch more cause we had some GREAT times together. But the last time I seen her, which was about 8 years ago, she had really become a different person. Well not so much different as lost all the memories that we had shared. I often joke and say aliens took over her body and she wasn't Michelle anymore LOL! But it's true she couldn't remember ANYTHING!
So although normally I every couple of years go out and start searching for her, I haven't. Because even though I considered her my sister and friend, she couldn't even find time to remember me. Which is sad.
That layout was about a month after I had #2 and it was in our apartment on Beecher Street in J'ville. (often remembered as the crack house) It was so hot at that time that I couldn't put none of her cute dresses on her - only a onesie because we had not air. In fact, the fan you see in the LO is the only fan we owned! These are two of the three pictures I have of Michelle. I really wish I would of took more especially a head-on shot.
Michelle always said she didn't want kids that she'd just use mine from time to time LOL! She (against my wishes) was in the delivery room while I was in labor & had #2. She swore after seeing that she would never, ever have kids - for real!
I really wish things in life weren't the way they are - it's really sad sometimes when stuff like this happens with 2 good friends.
well that's all for now.
later...........