Brenda whose
blog
I read regularly is looking for apple and pumpkin recipes and I have a ton of them so I thought I'd add them here too.
Actually I only have 2 but I have a ton saved that I'd like to try sometime. So here goes nothing =)
The first recipe comes from my FAVORITE cookbook, which just so happens to be my 1st cookbook -- Betty Crocker's New Cookbook. If your ever wondering what to get a young person for a wedding gift, new house/apartment gift, or a whatever gift - this is the thing. It's VERY helpful with well tested recipes and great pictures. They have everything well sectioned and many hints & troubleshooting tips, even tips for hosting dinners. There are many versions of this book, mine is the 1996 edition.
Since I'm lazy I photographed it instead of typing (click to see larger) -
I have done the recipe on the left as pumpkin bread -- GREAT!
Here's the picture the book has of it -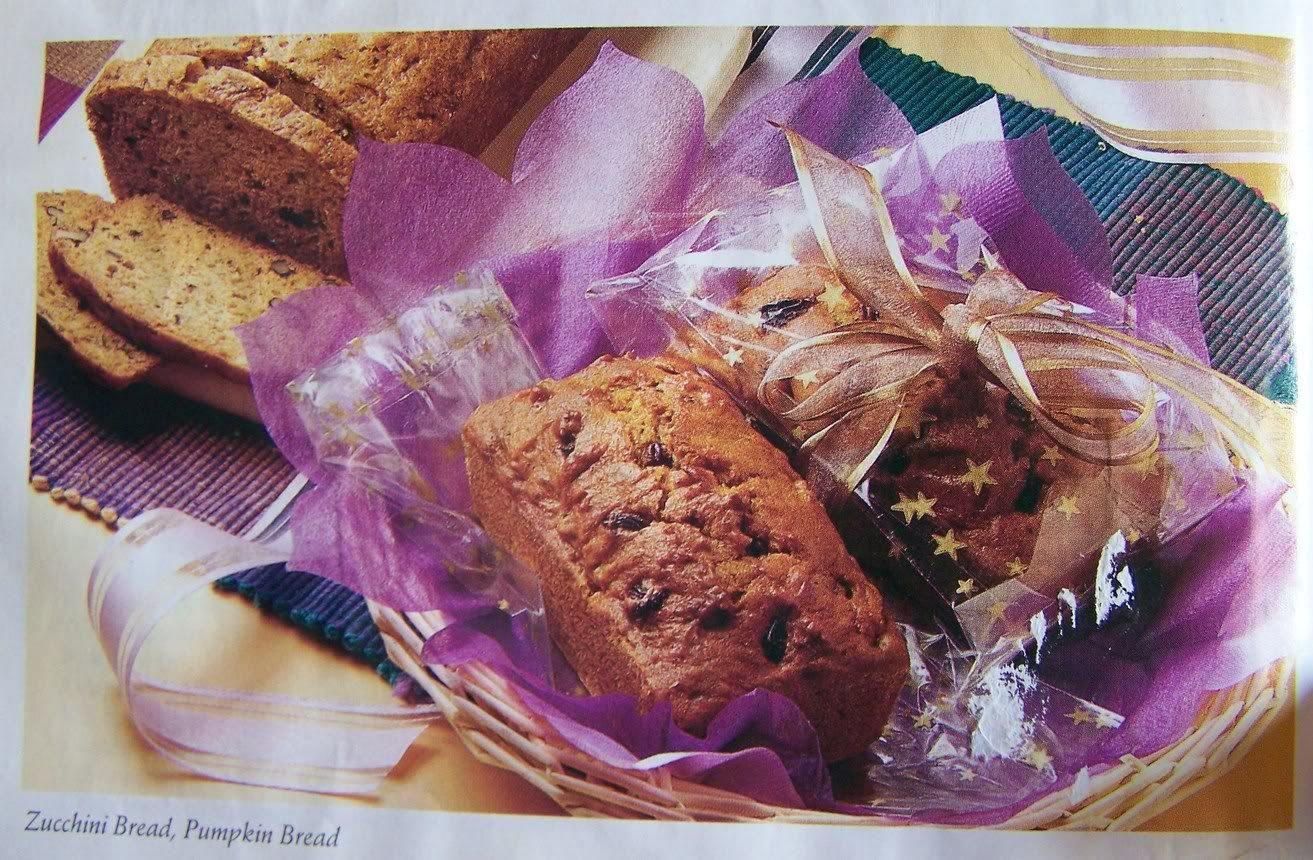 Here's the other recipe I use & love -
Got this recipe from my aunt. We went to her house once for a visit and she sent us home with some. When we ate it we were in LOVE! She said she got the recipe from a cookbook she had but while making it she messed up with the amount of one of the ingredients. She didn't realize until after it was in the oven though. So she figured oh well, what's the worst that can happen? Well it turned out great! She later made the recipe the correct way and no one really liked it so back to the messed up recipe! So here is her messed up Fresh Apple Bread.
______________________________________________________________
Fresh Apple Bread
1/2 cup white sugar
1/2 cup brown sugar (she probably used light)

1/2 cup butter or vegetable shortening
2 eggs
1-1.5 cups raw apples -peeled- and grated (do apples last)
1 cup milk (she probably used 2%)

1/2 tsp vanilla
2 cups flour (she probably used all purpose)
1/2 tsp cinnamon
1/2 tsp salt (she probably used table salt)
1/2 tsp baking soda (she does have powder crossed out here)
1 cup chopped nuts (we usually don't add this & it turns out fine)
(1st) In a large bowl mix sugars, shortening or butter, eggs. Add milk and vanilla
(2nd) In a medium bowl mix flour, cinnamon, salt, baking soda. mix well.
(3rd) Add dry ingredients with the first ingredients a little at a time. It might get stiff dough.
Then add your apples*. The juice and apples will make the dough smoother. add nuts.
* do apples last so they won't turn brown. I peal the apples and cut into 4ths and put in cold water when I first start, then all you have to do is grate them. (she probably used a food processor for this)
Bake at 350 degrees for 50 to 60 minutes. watch it for doneness for your oven. (she had a propane gas oven) You can put it in greased loaf pans or cake pan.
______________________________________________________________
See what happened was after I got this recipe from her I thought wow that's alot of work (hey I am lazy!) so I asked if she had a good pumpkin bread recipe. She said instead of the apples add a can of pumpkin. She also said if you want zucchini bread instead just add the same amount of zucchini as apples and your good to go! So although I've ate this recipe, I've not made it the way it is wrote. I've only made it as pumpkin bread.
Here are some apple & pumpkin recipes I'd like to try & had saved for awhile -
In my opinion the Kraft Foods site is a great place to get inspiration and recipes. Although you do have to overlook some of their specifics at times - like use Jello brand gelatin, when everyone knows most times a generic brands works just as well.
And I'm not sure how much ANY of these recipes will help Brenda out but I wanted to try to help =)
good luck!