this week's edition of funny pictures of Anne is odd to say the least. I am so ready to show this picture of me to
ANYONE
but then again....
what is up with my hair??!! what exactly am I going for here? is it a ponytail or what?
but I like this picture so much because this is the last summer I was skinny and the first one I was carefree. odd isn't. that right before a big change little things change in a way that will never be the same again.
for instance in this picture. this is the
ONLY
pair of shorts I
EVER
wore this short. and this is the only shirt I ever wore that showed that much - it was a belly shirt. I just wasn't that kinda girl, still ain't. But this summer I broke free just for a few months and said to hell with it! I'm gonna wear what everyone else is wearing. and I did.
till about 4 months later when I found out I was pregnant with #2.
then it was all over.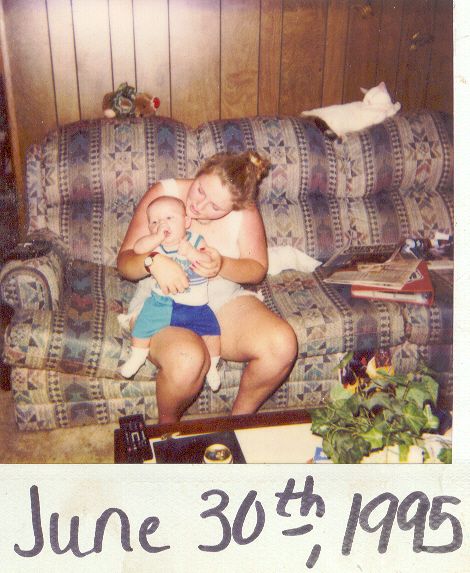 oh and do you see how tan I was? that is the tannest (is that a word?) I've been
EVER!
later,
**EDITED TO ADD** - this is my friend Kim's baby. He was such a cute chubby baby! Now he's close to 6' tall and very slim -- GAH! How time flies....